Puppy Training – Online vs Classes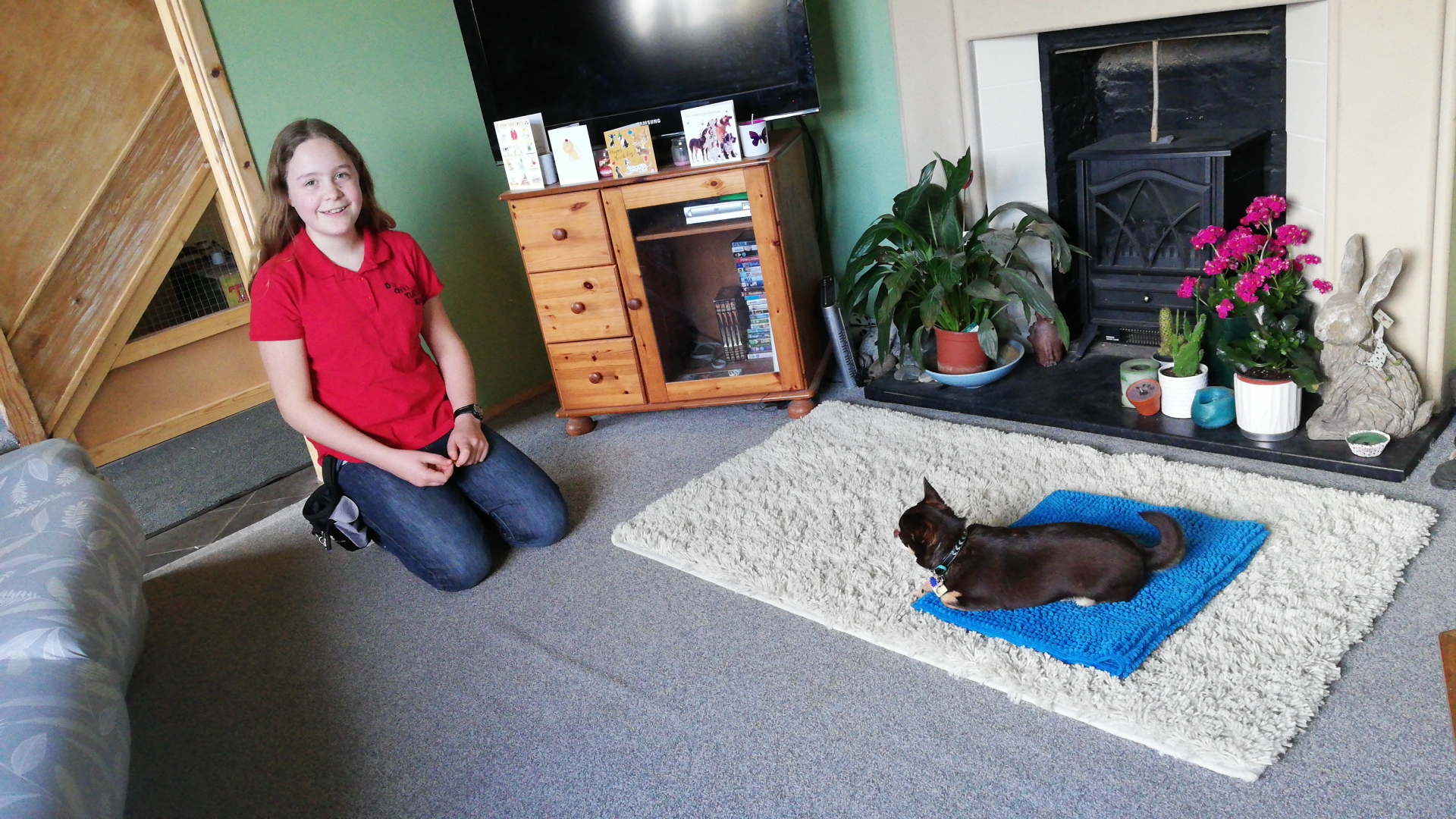 Online puppy training is a very new concept compared with taking your dog to a class. In this article I discuss my personal experience with online vs classes.
The history of puppy training
The training of pet dogs became popular in the 1950's. However  dogs were trained for working roles for a long time before that. This linked with people moving from working on the farms to the factories. This led to dogs becoming companions rather than having a working role.
Dr Ian Dunbar is often thought to be the father of puppy training classes. He designed and taught the worlds first off lead socialisation and training class in 1982.
Traditional Puppy Classes
Traditional puppy training classes are held in a village hall and have anything up to 10 families with puppies of all breeds participating. Many state puppies must be under 20 weeks to join, although some will allow those under a year. The instructor demonstrates each execise to the class, sometimes by borrowing one of the puppies. Then the owners have a go. Owners are shown how to teach their puppy to walk on a lead, come when called, sit, stay and more. At the end of the 30-60 minute class they are encouraged to practice before returning the following week.
When I first qualified as a Puppy School Tutor,this is exactly how I taught my classes. However over the years I realised this method came with many flaws. The main one being every owner and every puppy is different. They live in different environments and have different expectations from their puppy. The puppies themselves are different breeds with a variety of personalities. In is near impossible to meet the needs of every client in a class environment.
All owners and pup have different needs
These differences led to problems in classes. A 14 week Chihuahua is likely to be terrified of a 14 week Great Dane if he has never met a large dog before. A bouncy lab is going to struggle to focus on training when becoming best mates with an equally bouncy retriever pup. Combine this with Mrs Smith who is scared of big dogs, Mr Jones who has a hearing impediment, Miss Black who attends with her 2 young children and Mr Blogs who has mobility issues.
A better environment to learn
After a few years of teaching classes I switched to offering 1-2-1 puppy training. One family at a time with their puppy. The training plan could be taylored to them whether they had owned dogs for 20 years or if it was their first puppy. It didnt matter if they had a collie or a terrier.
However this style of training came with its limitations too. Training in an enclosed hall is very different to being on a walk. One of the biggest problems was owners struggled to translate the training to the real world. Puppies (and adult dogs) would do perfect recalls in their training session, but the owner didn't have the confidence to let them off the lead on walks. The dogs would drag their owner to the hall door in pure joy at coming to class, perform perfect leadwork in the hall, then drag their owner back to the car afterwards. Even including outdoor training sessions didn't help solve this problem. To many owners and their dogs, the training exercises only applied whilst in a training session with me.
Another fundamental flaw of live classes is you only have access to the tutor during the session. For some families it can be near impossible to get everyone involved with the puppy to attend the training sessions. Therefore it is up to those that can attend to remember what they did and educate the rest of the family. This can be very difficult when each session may include 5-7 seperate exercises.
Online training is the future
A few years ago, whilst visiting family in rural France, I considered online dog training to be a good idea. A neighbour of theirs was having online music lessons as this service wasnt avaliable in their community. However at the time I had no idea how to set up online tuition.
Covid struck and a course provider who I have done previous training with offered the information I needed to get things started online. The first course I wrote was K9 Cadets. My teenage daughter filmed it with me and it involves cooking, craft, learning, training and play activities for children who love dogs. Perfect to keep kids entertained at home during lockdown.
Next I filmed my puppy course. My first release was the exercises filmed as a 6 week course in the same way I would normally teach it. The results were amazing as owners were training at home in the environment in which they needed the training to work.
But still I wasnt happy. Something was still missing. Owners were living with their companions and needed practical advice for everyday life. I had got a new puppy myself and had done very little formal training with her. She didnt know sit, stand or down. I am a busy mum and was trying to homeschool two teenagers during a lockdown as well as start this new online training business. However Emba did know how to walk on a lead, behave off lead on walks, settle in a crate, have no issues being left home alone, sleep all night, was toilet trained and was a much loved member of our family. I had taught her all the core skills during our daily interactions without even really thinking about it.
That is where the new Practical Puppy course comes in. The step by step breakdown of the exercises is still there, as it is good to have something to focus on. However I have included a big section on Everyday Skills. How to include training in your daily life without even really thinking about it.
Puppy training for busy people
I was finally happy that I had created a puppy training programme that worked for busy people who wanted a puppy who was a valued member of the family. A programme that worked in every day life and involved minimal effort.
Promoting this new way of training is hard. It is very different to a one hour puppy class that I taught so many years ago. It isnt a hall full of cute puppies playing (although this is rarely what actually happen when mixing different sizes, ages and breeds in a class).
The Part of the Family free challenge is a way of helping new puppy owners realise the potential that their puppy is learning all the time. Use meal times as a way to teach exercises, playtime to teach drop and sleeptime to build confidence at being alone.
The Practical Puppy course takes things further by building the training exercises into your daily life so you have skills that work. You have access to the training videos for life so they can be rewatched at any time and by everyone in the family. Your tutor is only ever a phone call or a message away when you need help.
Online vs classes
| | |
| --- | --- |
| Online | Classes |
| Train in your own home where your puppy is relaxed | Train in an unfamiluar enviroment that can cause your puppy to become worried or over stimulated |
| Rewatch the demonstration videos as many times as you like. | Have the exercise demonstrated once in class by the tutor |
| Add in distractions once you and your puppy understand the fundermentals of the exercise | Learn the exercises in the presence of other dogs and people. |
| Train in short sessions to keep your pups attention. | Classes usually last up to an hour – that is a long time for a young pup to concentrate |
| Get the whole family involved at a time to suit you. | The whole family need to attend the class to be involved |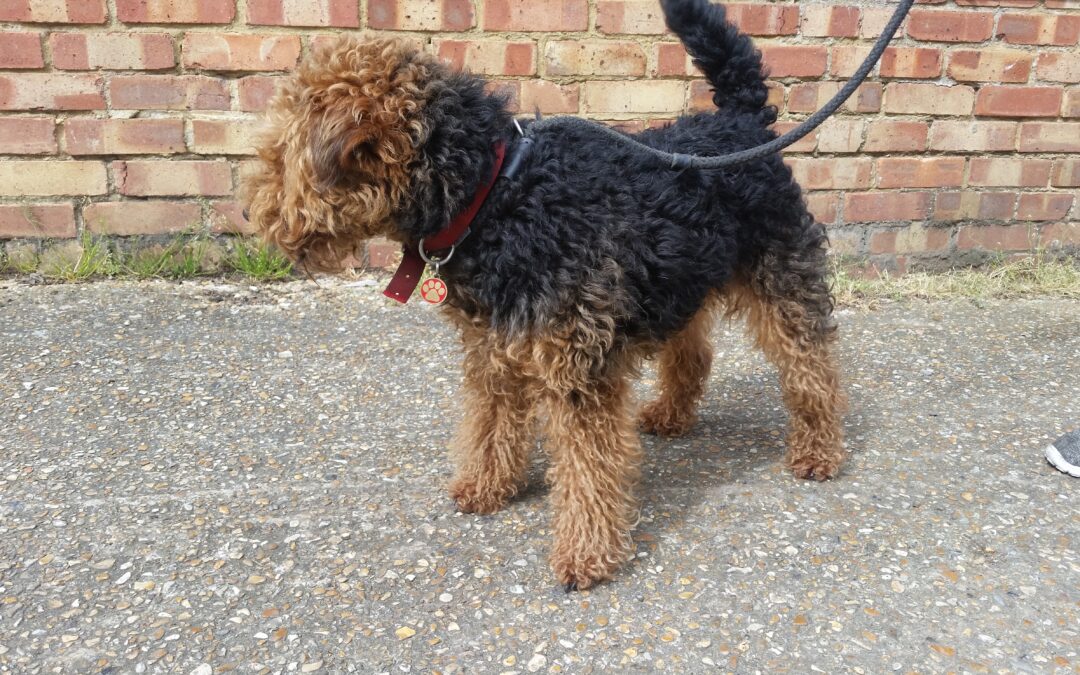 Leaving the house on a loose leadStop the pull before it starts! The daily walk is the highlight of the day for most dogs. This leads to your dog getting over excited and behaving like a sugar fuelled child at a birthday party. This over the top behaviour starts as...

Sign up for our free newsletter to receive special offers, free training videos and the latest DOTS news
We would love to hear from you!