Dogs + Owner + Trainer = A Perfect Partnership?
Find out if the Dog Owner Training School is for you with our free mini courses.
Every dog, owner and trainer is different. We learn in different ways and have different personalities. Some owners and dogs prefer a trainer who is strict and takes no nonsense, where as others prefer a gentler approach. Sign up to one of the free mini courses to meet Laura the trainer and see if the techniques used suit you and your dog.
At the Dog Owner Training School we have a gentle approach to training with an emphasis on praise for both dogs and owners. The use of harnesses is prefered, although I have some owners who would rather work on a collar. All the techniques used can be adapted to the needs of the dog and owner where neccessary. Food treats are used, but not to excess. There is an emphasis on using 'life rewards' that the dog naturally wants access to such as scent. The aim is for the owners to finish each session feeling positive, and that they have a plan for how to progress. I promise I will never shout at, scold or embarrass an owner or dog – ever! Yes, I have heard this happens with some trainers.
For training to be effective in day to day situations, you do need to practice. The training sessions are to give you advice, help you with problems you are having and give you the skills to progress in real life. I can be contacted between sessions for additional help if required. For the training to be a success you will need to put the work in. 
To book your first training session please email laura@dogownertrainingschool.co.uk or call 07548 880298. This session can be held in your own home, at our venue in Lamberhurst, Kent or on Zoom. 
For owners with a dog who pulls on the lead…
Fed up with feeling like one arm is longer than the other?
Embarrassed about walking your dog with friends because of the constant pulling?
Wish you could take you dog with you for relaxing days out?
Feel like the constant pulling is spoiling your daily walks?
Stop the Pull is a free online mini course comprising of 5 videos for you to watch at your leisure. Learn where to attach the lead, and how to hold it, how to calmly leave the house, why sniffing is so important, teach your dog to wait and set realistic expectations for walks.   
For owners with a dog who can't be trusted off lead…
Worried you might loose your dog forever if you let them off the lead?
Fed up with your dog ignoring you when the lead is removed?
Embarrassed about having to do the walk of shame to get your dog when they won't come back?
No Lead, No Control is a free online mini course comprising of 5 videos for you to watch at your leisure. Learn what a long line is and how it can be used to keep your dog safe, be more aware of what is going on around you and how this might affect your dog, and how to be more interesting to your dog  
For owners with a new puppy…
Having problems with your puppy biting or toileting in the house?
Finding owning a new puppy harder than you expected?
Are you getting a new puppy soon and want to make sure you are prepared?
A Puppy in the Family is a free online mini course comprising of 5 videos for you to watch at your leisure. Learn about getting the most out of your puppy at mealtimes, the importance of sleep, teaching your puppy to be calm, find out how to stop your puppy from biting and everything you need to know about toilet training.  
"Laura's support has been invaluable in producing a happy dog who is well on the way to being a delight inside and out, on and off the lead, despite not being the easiest breed.  She's patient and creative, and is able to adapt her approach and advice to the preferences of individual owners and dogs.  There are many dog training resources out there, some good, some perhaps less so, but Laura's non-judgemental approach and willingness to engage directly with specific challenges stand out." Mrs Moriarty

I offer face to face, online and Zoom training combining group classes and 1-2-1's. 

Its a bit like having a dog training in your pocket.  

Get help and advice from Laura the trainer, then practice at home to improve your skills. 

It can be difficult to get everyone together at the same time. The online training videos included with each course are accessible to the whole family when it is convenient to them.

1-2-1 sessions at our venue in Lamberhurst, sessions in your own home or online on Zoom we have something for everyone.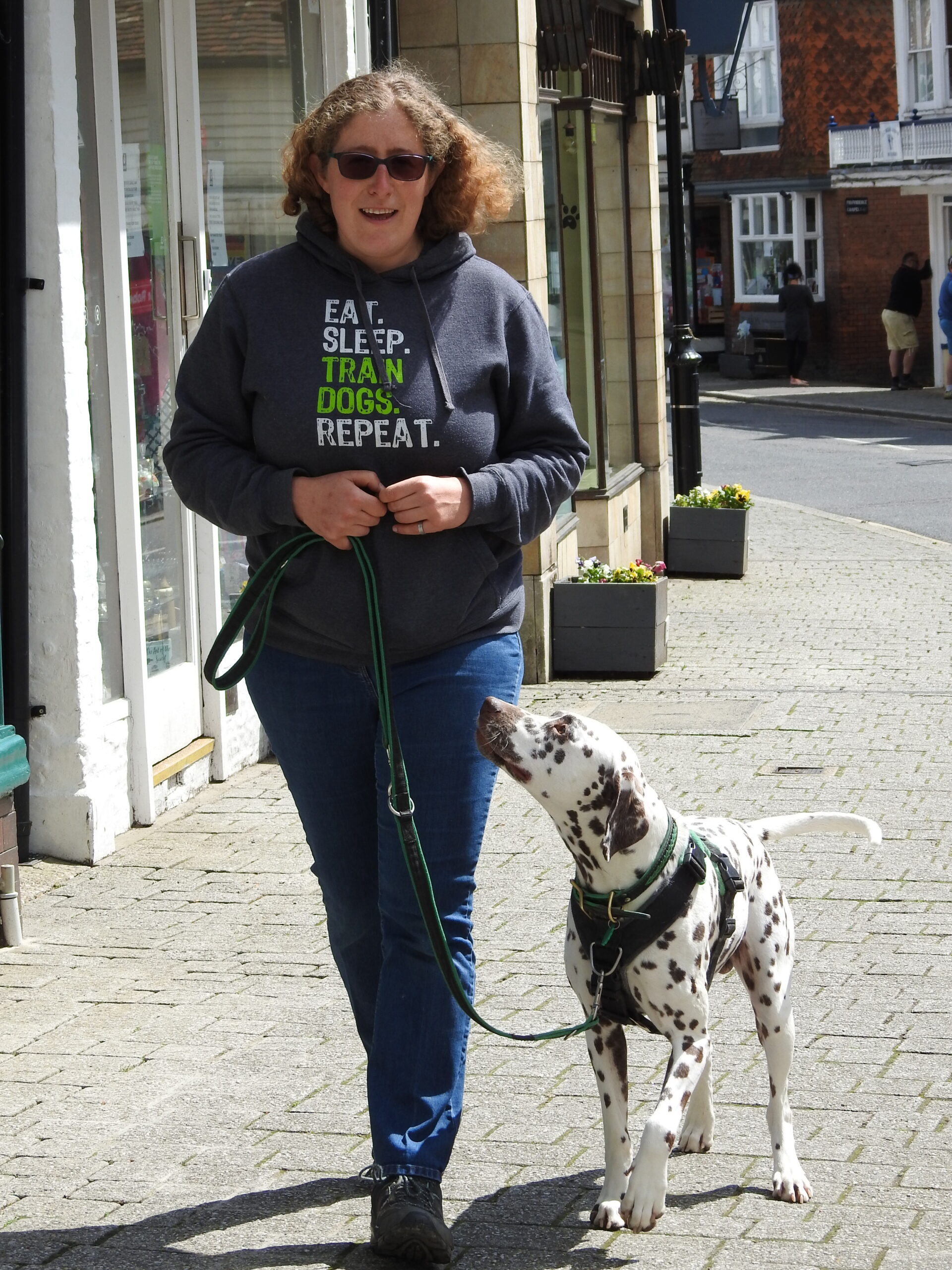 Laura is the fountain of all knowledge, who absolutely loves dogs, and is always available for a chat, and to offer advice when needed" G. Gasson
There is no such thing as a silly question. Feel free to contact me laura@dogownertrainingschool.co.uk
"This is an amazing and informative course, at a time when so many things are having to shut down, Laura has come up with the perfect solution! As a new puppy owner this has proved to be a lifeline for us, it covers so much and Laura has been there to answer any questions we have, so it really is tailored towards your own puppy. Highly recommend" T.Harris
Do you only offer online training?
No! We do face to face training, as well as online and on zoom. All the courses do come with a bonus set of pre-recorded videos so you can remind yourself of the exercises when you need to, and get the whole family involved. 
Local clients can take part in face to face training either in their own home or at our venue in Lamberhurst, Kent. We have clients all over the world who learn via Zoom. 
How do I get started?
The first step is to book a face to face 1-2-1 or Zoom call with Laura to address and issues you are having and put together a plan going forward. This may involve attending further 1-2-1 sessions, group sessions or even having Laura help train your dog for you. 
To book your first session please email laura@dogownertrainingschool.co.uk or call 07548 880298
Tell me more about Laura Carter and the Dog Owner Training School
Laura has been professionally helping owners train their pet dogs for over 10 years. She is registered with the Kennel Club to run the Good Citizen Awards from Puppy to Gold. 
Laura lives in Kent with her twin daughters, 4 dogs, 3 cats, a house rabbit, tortoises, chickens and a goose called Sam. 
What breeds/ age of dog is this suitable for?
We train pet dogs of all ages and breeds.   
When and where are sessions held?
Face to face sessions usually take place on Thursday and Friday daytimes fortnightly in a private woodland in Lamberhurst, Kent.
Zoom sessions can take place at various days and times 
Training in your home can be booked Monday – Friday daytimes, within 30 minutes drive of Cranbrook, Kent.