Are you looking for a simple, but effective way to train your dog?
Looking for training that works in every day life, not just in a village hall?
Whether you are looking for help training your adult dog, have recently adopted a rescue dog or you have a new puppy, the Dog Owner Training School can help. 
Our unique training experience teaches you real life skills to turn your dog into the perfect pooch who is the envy of your neighbourhood. We also offer scent work UK classes for owners and their dogs who fancy taking up a new hobby. 
The Dog Owner Training School offers group classes, online training and 1-2-1 sessions including the Kennel Club Good Citizen Awards, Scent work UK classes and the IMDT Partnership Awards. Click here for further information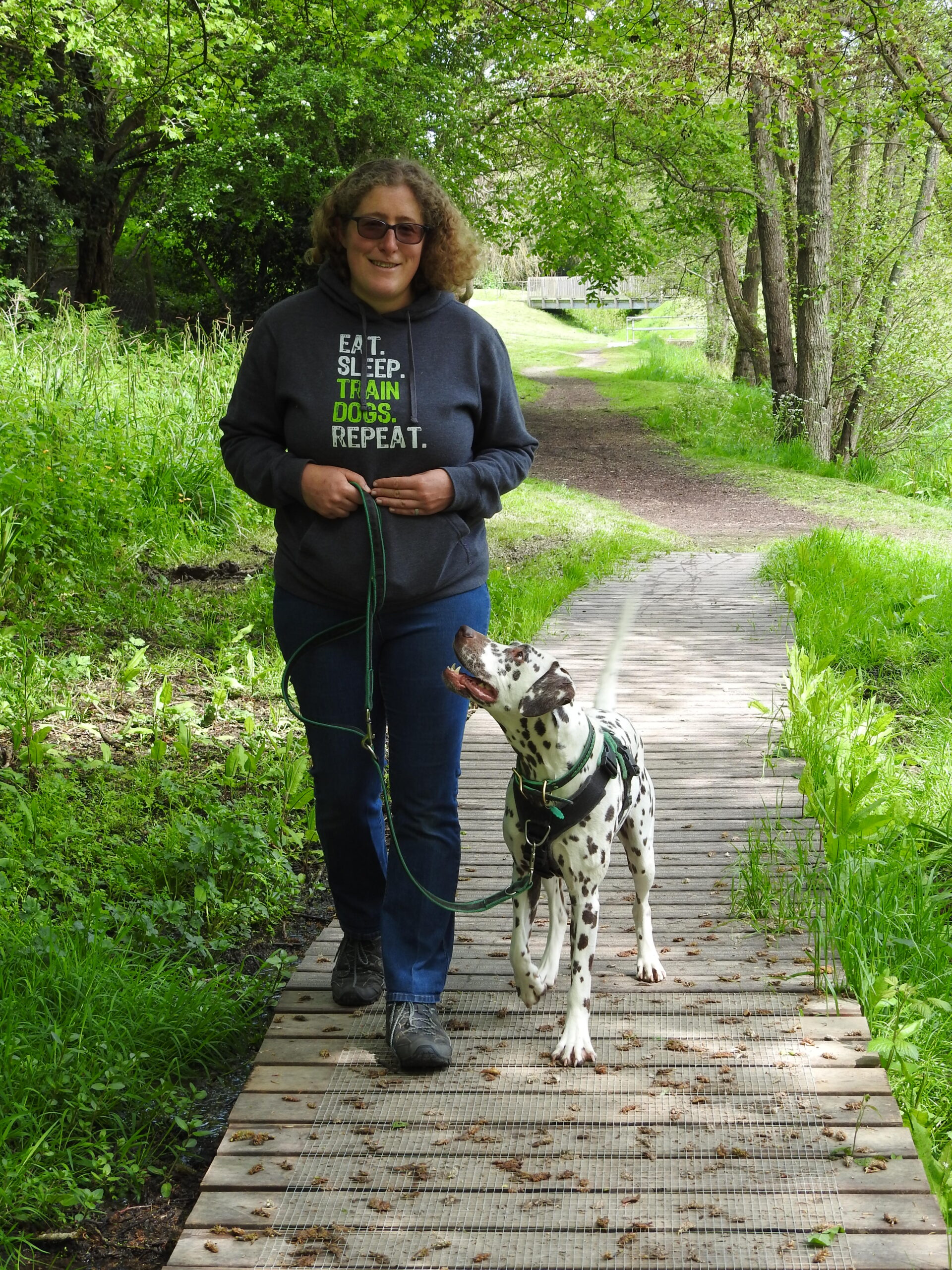 The Dog Owner Training School is owned and run by Laura Carter. Laura has over 10 years experience professionally training pet dogs and is qualified with the IMDT. She lives in Kent, UK with her teenage daughters and 5 dogs – Siri the Crufts qualifying Dalmatian, Orla the rescue crossbreed, Mungo the Working Cocker Spaniel, Dexter the chihuahua and Emba the tiny pom x chi. 
Embrace your dogs sniffing habit by trying scentwork.
Scentwork UK is based on detection-style nose work practiced daily by customs & excise dogs, bomb explosive dogs, search & rescue dogs and medical detection dogs.
Unlike most other dog sports it is suitable for ALL dogs and their owners no matter what their age or physical fitness and requires minimal equipment
Kennel Club Good Citizen Awards
The Kennel Club Good Citizen Dog Training scheme is the largest dog training programme in the UK. The scheme is open to all dogs, young or old, pedigree or crossbreed.
The scheme promotes responsible dog ownership by teaching owners to train their dog for everyday life situations. There are four award levels: Puppy Foundation, Bronze, Silver and Gold.
Our 8 week puppy course covers all the basics you would expect from walking nicely on a lead to coming back when called.
Like all our classes at the Dog Owner Training School, we have a maximum of 4 dogs per class and clients get access to online videos showing the exercises that have been covered each week.
We cover the Kennel Club Puppy Foundation Award and everyone who compleates the course is awarded a certificate and a rosette at the end.
The Top Dog Owner Club ensures you have the tools to enrich your dogs day to day life through training and play, and prevent problems from occurring. It gives you the reassurance you are providing the best possible care for your dogs mental wellbeing.
Membership benefits include : 
– Access to a large online video library containing a wealth of information.
– A monthly Wagazine through your door
– Monthly group Zoom question and answer session with our qualified trainer. 
– Private members only Facebook group. 
"Laura is a very knowledgeable and personable trainer, with lots of innovative ideas. Her sessions are warm and welcoming and she is always willing to give guidance to the owners on a range of dog-related queries (eg feeding issues) as well as their dogs. Her training helped us to build a good relationship with our new puppy" S.Betts