Educating You and Your Dog Online
Top 5 reasons why online learning is the future.
 – The whole family can be on board. Everyone can watch the videos at a time that is convenient to them. No one is getting second hand information.
 – Many dogs (and owners) struggle to focus in a class environment. By learning online you can start off the exercises at home then add in distractions when you are ready for them. Watch the videos without trying to keep your dog under control in a class environment.

– Can't quite remember how to do the exercise? You can re-watch the videos as often as you like. 
– You keep the videos for life. If your dog starts pulling on the lead again, or running off, you can rewatch the videos whenever you need to.
– Full support via WhatsApp, email or phone whem you need it. 
K9 Cadets ..............
Fun activities for children who love dogs
A fun course for children aged 5-11 who love dogs.

6 recipes to cook up delicious treats for your dog.

6 craft activities to make for your dog including a no-sew bath robe, toy box, toy and treat pouch.

6 fun games to play with your dog including hot and cold toys, make an agility course, hide and seek and runaway recalls.

6 training exercises to do with your dog including spin, paw and how to play football.
Practical Puppy .......
Everything you need to know for life with a new puppy
Train your puppy at home without going to classes. A great way to get the whole family involved. 

Part of the Family section includes everything you need to know about toilet training, setting a routine, stopping biting and sleep. 

Everyday skills section includes practical day to day training including when to let your puppy off the lead, stop your puppy from picking up items off the floor and more. 

6 week step by step training plan to teach loose lead walking, coming when called and more.

Social Skills includes everything you need to know about socialising your puppy. 
21 Days to Loose Lead Dreams
For owners of dogs who pull on the lead
Get the whole family involved with this online training course

Start training your dog to walk nicely on the lead from your next walk. 

21 days of exercises to get the elusive loose lead. 

The course uses a harness and lead. 

Fun, reward based training.
21 Days to Off Lead Freedom
For owners of dogs who run off when the lead is removed.
Teach your dog to stay close on walks and respond instantly to your recall with this online course.

Start using the techniques from your next walk.

21 days of exercises.

You will need a harness and long line for this course.

Fun, reward based training.
K9 Cadets
A fun programme of activities to keep kids and dogs busy. Get the whole family involved in K9 Cadets. The course is aimed a children aged 5 – 11 (younger children will require help with some of the activities). 
COOK dog treats for your fury friend
MAKE dog related craft activities
TRAIN your dog to do fun tricks
PLAY games with your dog
LEARN more about your dog including different breeds, how dogs learn, how dogs communicate and more. 
30 activities (6 x each of Cook, Make, Train, Play and Learn) and you get access to the course videos for life. Only one course purchase required per family no matter how many children you have taking part. 
Practical Puppy
Primary School is where a formal education starts for children. Children progress from the informal atmosphere of a play group to focusing more on reading, writing and maths. This is like the transformation from Puppy Training up to Dog School. 
In Dog School we re-visit the exercises taught in Puppy Training, but in a more formal manner. The course is also suitable for dogs who haven't had any previous training. Students learn the process of how to teach their dog something new, and how to break it down into steps. Being older, the dogs are able to retain more information and are able to focus better. The course covers walking on a loose lead, coming back when called, stay, handling and other exercises needed in daily life.
On completion of the 8 week course you have the option to take the Kennel Club Good Citizen Bronze Award assessment. During the course you have the option to do the IMDT partnership award level 1. 
Maximum of 4 dogs and their owners per class to allow for individual help when required.
You will have access to an online video library where you can watch the exercises covered in class. This is a great way to get the whole family involved in training, including those unable to attend classes.
Support between classes via WhatsApp, phone or email when you need it. 
Dog School is suitable for all dogs of all ages, including those with no previous training. However I reccomend that dogs under six months do the puppy course first.  
21 Days to Loose Lead Dreams
Do you struggle to get your dog to walk on a Loose Lead?
Feel you have done a full arm work out trying to keep your dog under control?
This course will help you achieve your loose lead dreams in 21 days.
This course is for people who are serious and committed to achieve results. Every day for the 21 days you will have a task to complete. The loose lead daily task will help mentally tire your dog. It is important that you get everyone who walks your dog involved with the course. The online plan and videos can be accessed at your convenience. You have access to the online material contained within the course for life. Therefore any time in the future, if you find bad habits creeping back in, you can access the material to re-do the 21 day plan.
The course covers the two different types of loose lead walking. Leisure mode is for when you and your dog go for a leisurely stroll together. It gets you in tune with each other, like enjoying a walk with a friend. Leisure mode should make up most of your walks. In contrast Training mode is where your dog walks beside your leg. It is great for busy areas where you need to keep your dog close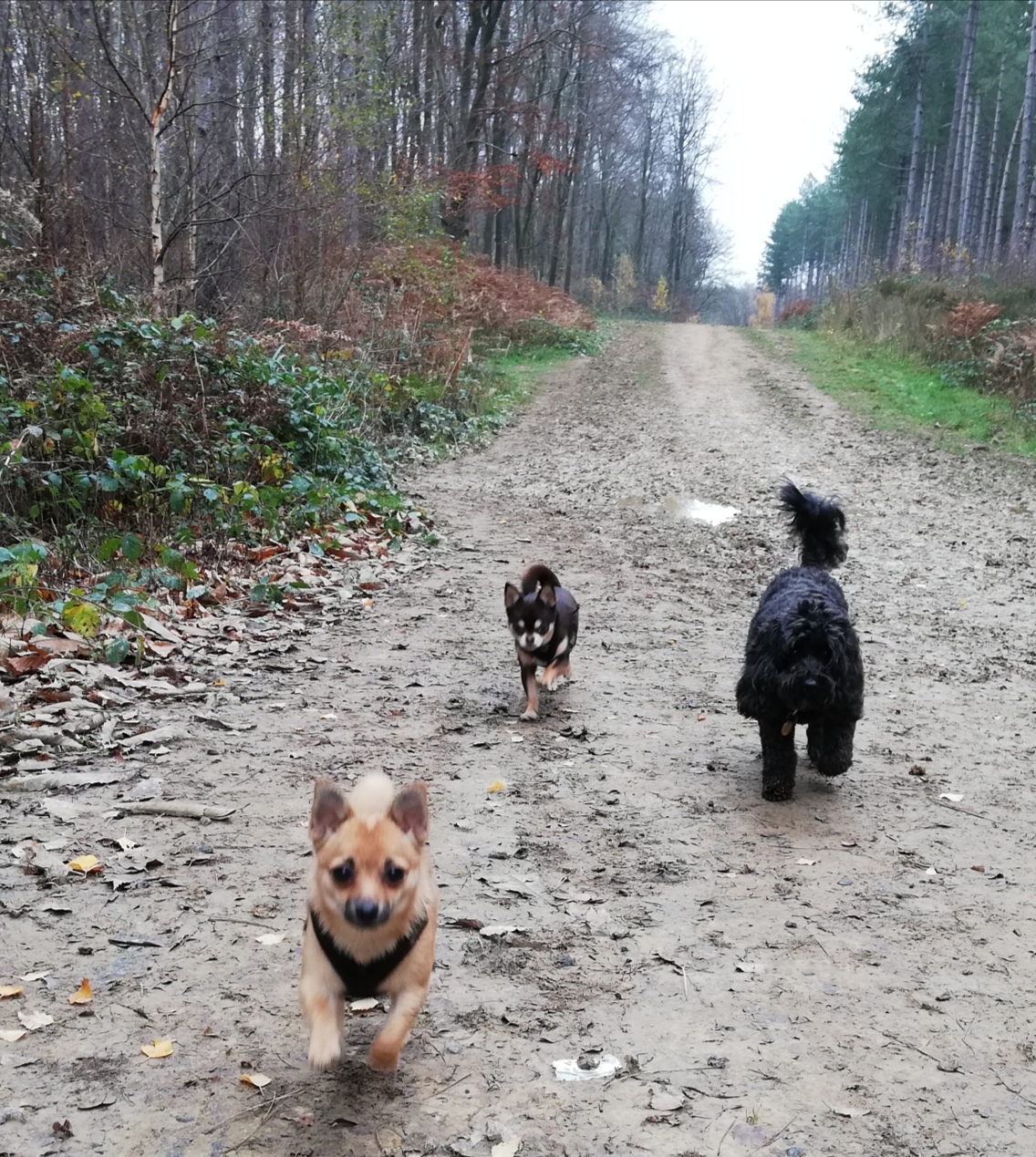 21 Days to Off Lead Freedom
Are you worried about letting your dog off the lead on walks?
Fed up of your dog ignoring you when the lead is removed?
This is the course for you.
21 Days to Off Lead Freedom is so much more than just teaching your dog to come back to you when you call. It is about getting your dog to want to stay close to you and not stray from your sight. The course covers how use a long line to keep your dog safe, teaching your dog to come back using both a whistle and your voice as well as fun games to encourage your dog to stay close.
"Laura's support has been invaluable in producing a happy dog who is well on the way to being a delight inside and out, on and off the lead, despite not being the easiest breed.  She's patient and creative, and is able to adapt her approach and advice to the preferences of individual owners and dogs.  There are many dog training resources out there, some good, some perhaps less so, but Laura's non-judgemental approach and willingness to engage directly with specific challenges stand out." Mrs Moriarty
Please feel free to drop me an email or give me a call to have a chat before committing to any of my training options. Not all trainers are the same so it is important to find someone who you feel comfortable working with. 
laura@dogownertrainingschool.co.uk
07548 880298 WhatsApp / text / phone
(if no answer please leave a message and I will call you back. I only take calls when in the privacy of my office – you wont find me taking business calls when shopping in Tesco!)

Every dog and owner is different, which is why we put together a training plan that works for you. 

Each training exercise is broken down into simple, easy to follow steps.

Its a bit like having a dog training in your pocket. Whether you book a home visit, group class or sign up to train online, you are welcome to contact the trainer for support between sessions when you need it.  

The whole family is welcome to get involved with the training experience. Ask about K9 Cadets – our training programme for children.

Positive, reward based training is used with both the dogs and their owners. Leave each session feeling optimistic with new ideas.

Training in a village hall is very different to being out in the real world. Our training is designed to work where you need it to.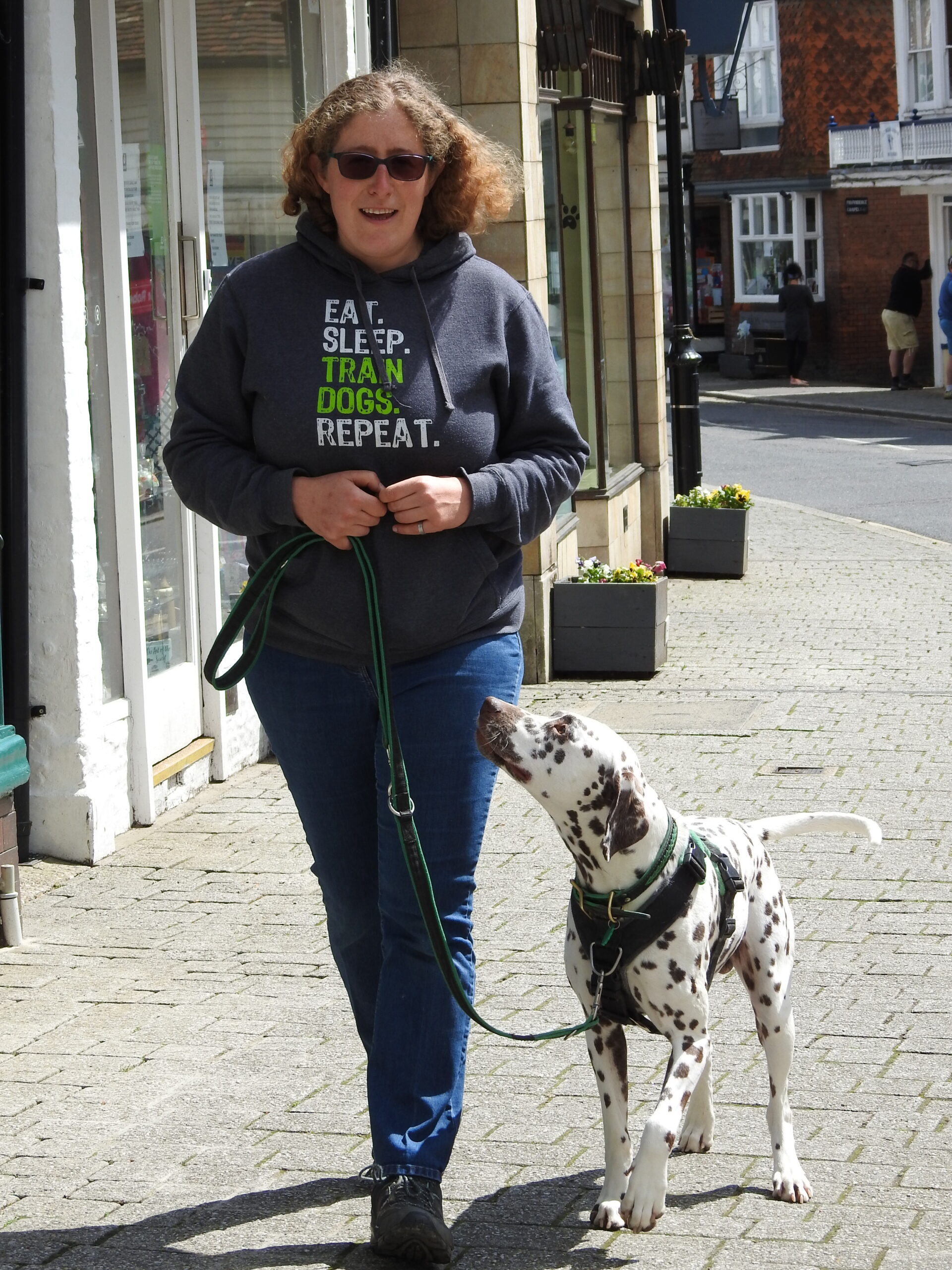 "Excellent training programme. The videos are so informative, and full of advice. The benefit of having an online training programme means you can keep watching the videos time and again, and work at yours and your puppy's pace, without feeling under pressure.

Laura is the fountain of all knowledge, who absolutely loves dogs, and is always available for a chat, and to offer advice when needed" G. Gasson