Having a dog who pulls on the lead is exhausting. The constant strain on your arm and shoulder, and the embarrassment of not having full control when out. 
With our online training plans you get quick access to help you change your dogs behaviour on your next walk. No need to wait until the next class starts, or you can arrange an appointment with a trainer. 
Mini Course
Tips to help stop the pull
5 pre-recorded videos with exercises to help stop your dog from pulling on the lead.

5 x emails on alternate days with bonus tips.
21 Days to Loose Lead Dream
Bronze
21 Day online training plan including pre recorded demonstration videos.

Daily emails to help keep you on track

Paper training diary sent in the post
21 Days to Loose Lead Dreams
Silver
 Everything in Bronze plus…

Weekly video review (x3). Submit videos of you working on the training exercises with your dog and receive written personalised feedback. Videos can be submitted by WhatsApp, Dropbox or email.
21 Days to Loose Lead Dreams
Gold
Everything in Silver plus…

A weekly phone or video call with trainer Laura Carter (x3)
What you get at the Dog Owner Training School
"Laura has been involved with my dogs for the past 8 years.  She has helped me with my previous rescue, helped train my next two rescues, and I have taken forward her teachings to my recent rescue dog.  
Laura is innovative, enthusiastic, kind, generous and has a can-do attitude.  I have learned a lot from her.  I enjoyed her classes which she made fun but informative.  She is helpful, positive and listens.

I would fully recommend Laura in anything she does as she always tackles it with enthusiasm and positivity" K. Sztyber

Pre-recorded videos that you can watch and re-watch at a time convenient to you. Perfect to help you achieve your loose lead walking dreams

Life gets in the way. Regular emails direct to your inbox help you keep on track with your training 

We get it, everyone is different. Pick the Bronze, Silver or Gold package that gives you the support that you need.

Learn in the environment where you and your dog need the training to work. Teaching loose lead walking in a village hall is a very different experience to building the training into your daily walks.

It can be difficult to get everyone who walks your dog together at the same time to learn how to make changes to your dogs behaviour. The online training is accessible to the whole family when it is convenient to them. 

As part of the 21 day plan you will recieve a paper training diary in the post. 
Watching the online videos is just one of the steps to training your dog, and the paper training diary helps keep you on track and record your progress.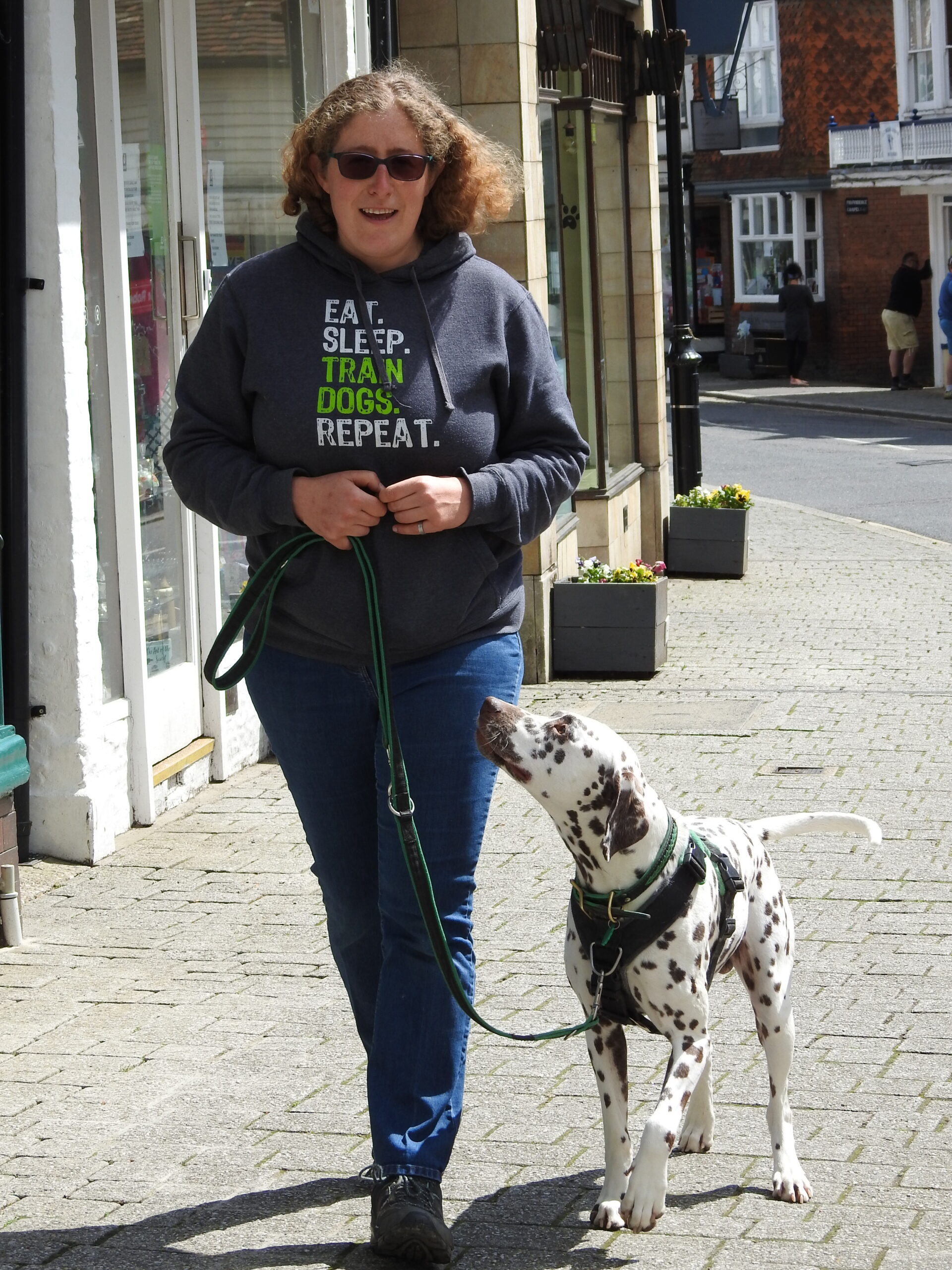 "As soon as I started training, I felt reassured that Cid's problem could be overcome.  In fact I didn't feel alone with the problem anymore.  I felt I could go to Laura and ask for advice when struggling" H.Jobson
FAQ for Loose Lead Walking
What is included in the free mini course?
The mini course contains a series of 5 videos that address some of the main issues and solutions for dogs that pull on the lead. 
It is the perfect way for you to try the online learning experience at no cost. 
How does the 21 Day plan work?
The 21 day plan gives you a daily task to complete with your dog. It works on teaching the 2 different types of leadwork – leisure mode for when you can give your dog some freedom, and training mode for when they need to be right next to your leg. 
The online training includes a series of pre-recorded videos demonstrating each exercise. As part of the plan you will also receive a bonus email with the daily task, and a paper training diary to help you track your progress. 
What if I need more support after completing the 21 day plan?
After compleating the 21 day plan you will recieve information on how to continue to recieve support including a weekly phone call with Laura, and further vdeo reviews.
Tell me more about Laura Carter and the Dog Owner Training School
Laura has been proffessionally helping owners train thir pet dogs for over 10 years. She is registered with the Kennel Club to run the Good Citizen Awards from Puppy to Gold. 
Laura lives in Kent with her twin daughters, 4 dogs, 3 cats, tortoises, chickens and a goose called Sam. 
What breeds/ age of dog is this suitable for?
This course is suitable for all ages and breeds of dog. 
However if you have a dog who is less than a year old with no previous training, I would reccomend you first complete the Practical Puppy course. 
My dog barks and lunges at other dogs on walks, will the 21 day plan help?
No. This course is designed for dogs that pull on the lead because they want to get to where they are going fast. 
Dogs who lunge and bark at other dogs require a dfferent kind of training plan not covered in the 21 Days to Loose Lead Dreams course.